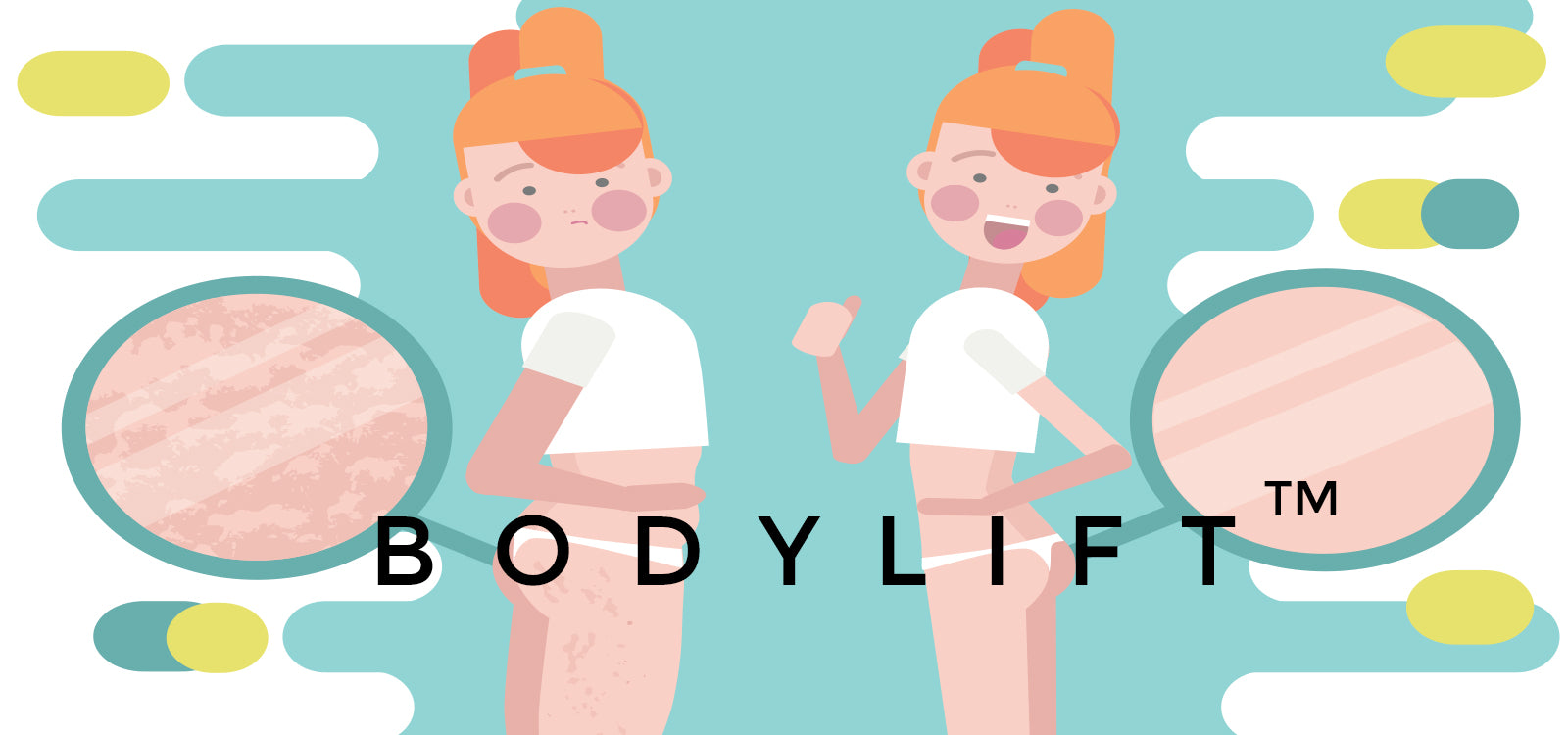 bye, bye cellulite. hello toned, firm skin.
aurelia essential oils to fight cellulite
Cellulite can happen to any of us, regardless of how much we weigh, how much or how little we exercise, or how many years young we are. One thing's for sure, though: Eliminating cellulite is a good thing--and not just for cosmetic reasons. There are toxins in that dimpled skin, and we do not want to carry those around with us.
Our solution? The BodyLift collection, a natural, gentle, holistic way to help the body eliminate cellulite. Use both blends--BodyLift AM and BodyLift PM--for maximum effectiveness.
Give your body a wake-up call with BodyLift AM:
Lift, tone, and invigorate the skin.
Let your body do its work while you sleep.
BodyLift PM

primes your precious body to gently eliminate cellulite and the toxins that impede lifting. All you have to do is zzzzzzzz…..
body lifting is easy.
Mix each essential oil blend into a fragrance-free carrier oil such as Raw Skin Care Oil, sweet almond oil, or your favorite body lotion.
You can mix individual applications of each blend in the palm of your hand.
Or prepare a glass pump bottle with enough mixture for many applications.
Gently massage into the skin.
Or make a spray (approx. 20-30 drops per 100 ml of pure spring water).
Bonus: spritzing the body also primes it for moisturizing!
Don't forget: BodyLift AM in the morning / BodyLift PM at night.
Be sure to visit the BodyLift AM page and the BodyLift PM page for mixing proportions, more tips, and testimonials.
Below you can see the photos from one of our clients.  She has shared with us her progress over the course of 10 weeks, only using BodyLift AM and BodyLift PM.  She has not changed her eating habits during the 10 weeks.  She eats normal portions, doesn't exercise, and eats her daily piece of chocolate as well as an occasional cake.  See for yourself:
BEFORE:
AFTER 5 WEEKS:
AFTER 10 WEEKS:

 
"I use the BodyLift AM regularly and proactively to tighten my conjunctive tissue. When I ran out of it and I have not used it for 14 days, I saw that I have bruises on my thighs. I bought right away and started using it and the bruises were gone in the same day! I guess that BodyLift AM keeps my connective tissue intact so that I do not get bruises when I accidentally bump myself!" - A.M.
"I had lots of blueish veins on both legs, to the point where I almost had blue legs and I didn't want to wear a skirt without tights anymore. I also had dimple like holes on my butt. For three weeks I'm using BodyLift pm in the evening and BodyLift am in the morning on both legs and on my butt. The blue veins have almost disappeared and the holes from cellulite are gone! A miracle really." - U.K.
applications
You would be surprised how many people ask us if they can ingest our oils.  While I can see this is tempting, my response is ALWAYS, "it's AROMA - therapy."  Which means, you smell it, you don't ne...
Read more