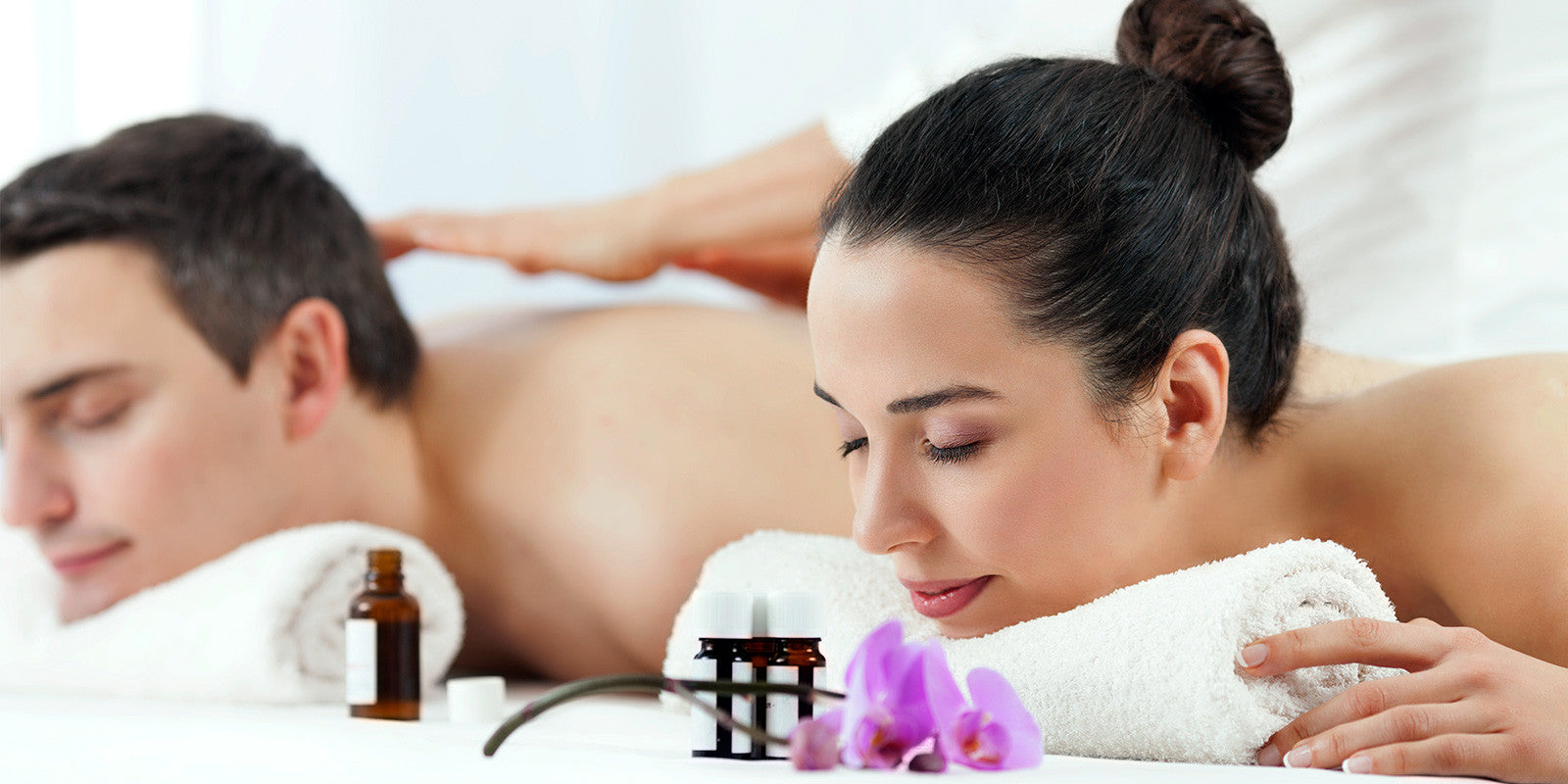 Take your essential oils to your next massage
The next time you are headed for a massage, take your oils with you!  The essential oils used in a massage are as important as the therapist.  In fact, when doing any healing or physical therapy work, our essential oil blends will amplify the effect of the treatment and make the therapist's job easier too.
Whether you are going for a full body massage, a local massage or some physical therapy - we have over 100 unadulterated therapeutic grade essential oil blends for whatever you are trying to achieve.
the benefits of essential oil massage
Massage can stimulate detox, lymphatic drainage, muscle health, and help with stress.  Plus, if you have a good therapist it feels good too.  As certain parts of the body are massaged, energy blockages can be touched upon and released as well; even the therapist is unaware of these effects.
Now couple the benefits of massage with the benefits of our essential oil blends and you've got a match made in heaven!  Normally we use essential oils by the drop, but in an aromatherapy massage we are immersed in the oil.  Anyone can feel the difference between a massage with our essential oil blends and a massage without our essential oil blends.
If you really like using our essential oil blends in your home or as a natural perfume, and if you enjoy getting a massage, then having them applied from head to toe will leave you elated and glowing with energy.
decide beforehand what you want to use
It's a good idea to pick the blend you want to use before going to the spa or before the arrival of your therapist at home or work.  There are several ways to go about this.
First, if you are working on something physically, you might want to use something that addresses the problem on a physical level.  For example, if you need a sports massage, use After Sport, or if you have pain, take Pain Ease to the spa.  Muscle Ease essential oil blend is always a good choice and was actually made for massage.
It also depends on the type of massage you are getting.  A 15-minute local massage might call for Healing Master essential oil blend; let's say if you are working on an old or fresh injury.  Or a 30-minute back and shoulder massage calls for Back&Shoulders AM or Back&Shoulders PM essential oil blends, naturally.  The names of our blends are pretty much self-explanatory as to their benefit and deep in regards to their effect.
So for example if you want to address something more emotional or on the spiritual level, grab a bottle of Emotional Cleansing essential oil blend to help release emotions.  Or if you feel stuck and need some help moving forward, use Blocks essential oil blend.
For lymphatic drainage, use Lymphatic System essential oil blend.  If you want to amp up against the winter season, use Air Fresh in massage.  Maybe you want a facial massage?  We suggest Raw Skin Care with a few extra drops of Skin Care essence.  Raw Skin Care can be left on after the massage is finished.  And for feet, try something like Chakra 1, Invigorating, or Energy essential oil blends.
If you're just not sure, or you just want a massage without thinking about it, sometimes the intuitive guidance from the Essential Keys comes in handy.  This way you'll get what's best for you at the moment without needing to over think.  After all, this should be relaxing.
After you have decided on which blend to use, set it aside or put it into a pouch for transport.
ask permission, take a backup if they don't like the smell.
When meeting your massage therapist, ask first if he or she will use your essential oil.  Allow him or her to smell it, and if he likes it and agrees, tell him to pour 7-10 drops into a carrier oil (mixing ratios below).  Every massage room has carrier oil, usually warmed up, but when mixing they might need to use a separate bowl.  Some carrier oils are jojoba, light coconut oil, almond oil and peach kernel oil.
If the therapist doesn't like the essential oil, try your backup oil.  Not every aroma and energy is right for the person at the time.  We also need to respect professional boundaries or comfort zones for that matter.  But chances are if they don't like our essential oil blends, you might want to switch to another therapist.  Most therapists who are good at what they do love our oils, and maybe you're lucky enough to have a massage therapist who already uses dharmaceuticals essential oil blends.
We have had reports that massage therapists have fainted while in session from using other oils that have been chemically treated.  Once they switched to our essential oils, the fainting stopped.
The bottom line is that the oils help the therapist as the oils help you.  If they want to know where you got the oils, ask us for some cards and we will send them to you.  Or share this article with them.
don't shower off for 6 hours
In order to get the most benefit from your massage, allow the oil to penetrate for at least 6 hours.  During this time you can lie down and relax a little while too.  Although this is the ideal situation, we know it's not always possible, because you may have your massage before a night out or during office hours.  In these cases, trust that the effects of our essential oil blends are immediate as they penetrate the tissue instantly, and all you lose is whatever the possible skin smoothing effect of the fatty carrier oil is.
After your massage, towel yourself off briskly to not soil your clothing.
essential oil mixing ratios
Here are some suggested mixing ratios for massage; you can always go by feeling or just suggest 7-10 drops.  The therapist should have an idea when he or she needs more, but please tell them our essential oil blends are very potent.
Full Body
50 drops to 120 ml carrier oil
Local Massage
30 drops to 30 ml carrier
You will enjoy having a massage with our essential oil blends regularly.  It will not only improve wellness, but you'll smell great too.  Once you find a blend that just works well for you every time, use that.
feedback
"Last week I had a regular customer come in for a massage and she asked me if I knew what she could do to relax. Her thoughts are always all over the place and she finds no peace. Then I had the idea to bring Vision on board into the massage and gently massaged a drop into her third eye with small circles and she fell asleep from it. She was so excited that she ordered the oil to use it at home in her aroma lamp." C.P.

"I was traveling and wanted a massage from the long flight.  I scheduled one and brought my muscle ease essential oil blend.  Afterwards I felt so good and relaxed, no kinks or cramps.  It was amazing.  It just feels so nice knowing I can use my oils wherever I go and have the great effects." A.
"I love having my monthly massage with lymphatic system.  I feel so refreshed after this immunity boost!" A.
"Whenever I want to kick-start a detox, I ask to be massaged in detox.  Wow, it really works!" P.
"The massage therapists I go to love when I bring my oils from dharmaceuticals. They say it's unlike anything they have ever used!"
photo credit: adobe stock/bokan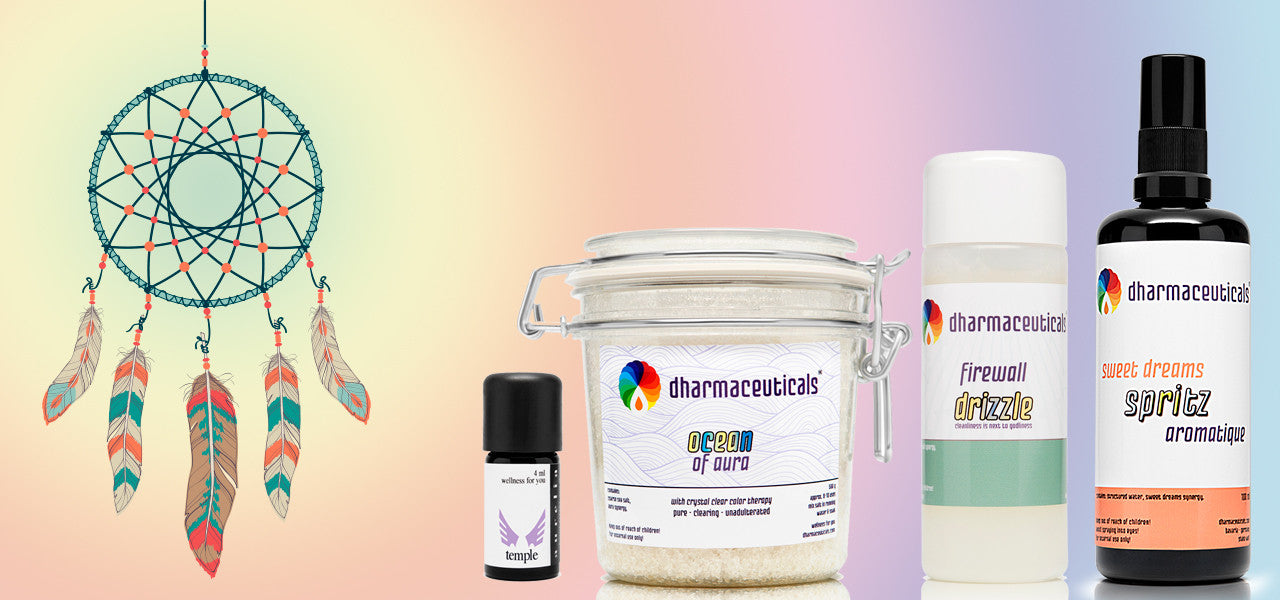 essential oils for sleep
When we are awake, we can (and hopefully do) use our powers of observation and intuition to notice when we are in physical danger. Furthermore, we can learn to trust our ability to sense subtle or ...
Read more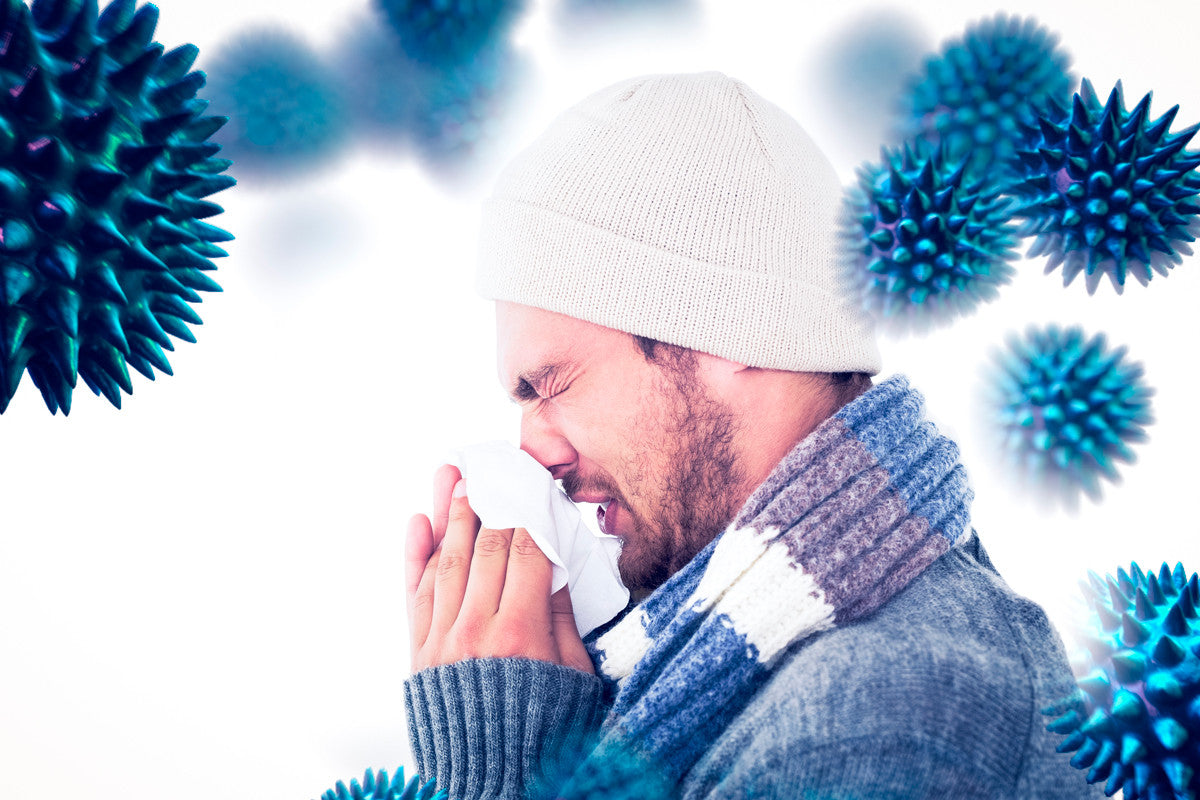 aromatherapy
"The germ is nothing; the terrain is everything." - Louis Pasteur Germs and bacteria are attracted to low-vibrational environments without exception.  They are like flies on crap. During flu season...
Read more